Click Here to inquire about purchasing a Bulhaven Bullmastiff puppy or young adult.

...Some Fun News...
Check out Bulhaven's Daily Blog for more Spur of the Moment and Daily Bullmastiff News

Bulhaven Bullmastiffs is adding new and updated pages!! Have some patience and check back soon! May will bring new and exciting pages of all of our CURRENT Bulhaven Dogs!!
---
Look who's visiting!!! That's right, "TONI"!! Bulhaven's Tonight's The Knight is here for a pregnancy retreat on Cape Cod for her upcoming planned 2013 litter!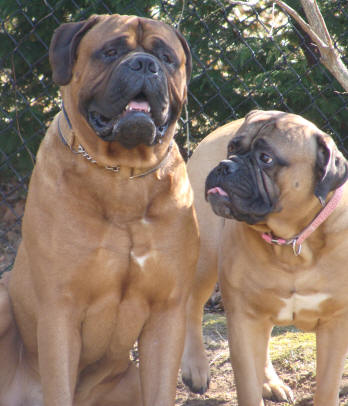 CONGRATULATIONS to Cassanova and

Toni, the soon-to-be parents of Bulhaven Bullmastiffs newest litter! We are beside ourselves with excitement with Cassanova as our own sire for Toni's current 2013 litter! Puppies expected April of 2013

CONGRATULATIONS to Minni and to Hilde Kjeldby & Glenn Hall of Old Manila Bullmastiffs in Norway. We are thrilled to announce that Old Manila's Little Mill won Best of Breed at the Prestigious Cruft's show in England! Minni is a littermate to both Nocello's and Oslo's dams.

We WELCOME baby "Nocello" to our home from Norway. Nocello is out of Cassanova and Old Manila's Echo Springs. Old Manila's Nocello at Bulhaven was born in June of 2011. We are thrilled to share our home with this lovely fawn girl.

CONGRATULATIONS to Cassanova and to Mette Sorensen of Librrani Bullmastiffs in Denmark and Satu Timlin of Bullgrins Bullmastiffs in Finland. We are excited that they chose

Cassanova to sire their current 2011 litter of EIGHT puppies. Three girls and five boys born October 25th of 2011..

Go BRAVO! Bravo has started showing here and there. Bravo has won his class in almost every outing.

Bulhaven Bullmastiffs honors Bettering the Emotional and Physical Health of our breed thru protective breeding



Follow us on FACEBOOK for uploads of weekly photos and news

Rescue Barn.com is now up and running. Visit this Adoption and Rehabilitation site honoring some of the most unique special needs Molossers looking for forever homes! Follow The Rescue Barn on Facebook at: "Rescue Barn, Molosser Rescue and Adoption"

---
Visit each of my dog's individual pages for photos, extra photo galleries and news!!

Feel free to inquire.

Look for us at local shows. Send us an email to inquire about upcoming shows!!
---
IT'S AN ADOPTION DAY!
Every Day is Adoption Day...Consider adopting a Bullmastiff!!
Visit our Rescue Web Site
---
Do you own or wish to own a Bullmastiff and would like to be in contact with other folks who have Bullmastiffs? Do you have questions about the breed, like to chat (sometimes argue), or just want to share stories? Consider joining the Bullmastiff Fanciers Mailing List.

Want to join? Simply click here with a request to subscribe. *Warning: this is a high volume email list full of breeders, judges of the breed, owners and those who fancy our wonderful breed.